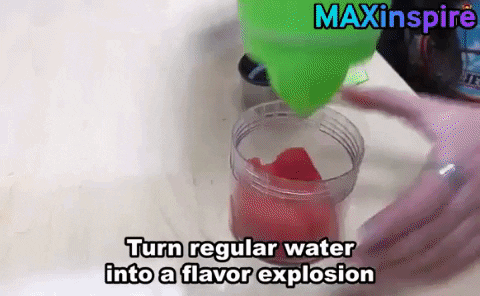 Are you bored by the taste of water? But you also do not want to drink soft drinks?  Then Portable Water Juice Bottle is just right for you!
With the Portable Water Juice Bottle you can easily stay away from the soft drinks. This will give you a deliciously fresh taste of healthy fruits, but without any added sugar. But with a power boost of healthy nutrients!   
Discover all the benefits of the Portable Water Juice Bottle below!
Beautiful Skin, Fat Burning & Energy -
You can easily use it everyday, so it will be easier for you to maintain your healthy lifestyle . Drink enough water! You hear it over and over again and it's really true.
It contributes to beautiful skin , stimulates fat burning , cleanses the body of toxins and ensures that you feel fit and vital throughout the day !
Variation in taste -
You can also just everyday variety create by every day a different type of fruit to try. Cut a piece of fruit, place it on the bottom of your Portable Water Juice Bottle, mix it a few times and your water will get a super delicious taste.
Sustainable & better for the environment -
They not only help themselves but also contribute to a better environment ! Say goodbye to all the plastic bottles you throw away every day. You can use the Portable Water Juice Bottle for years !
Take it everywhere -
The Portable Water Juice Bottle has a waterproof design. So you can keep your water in your handbag without fear of the bottle leaking! And you do not have to worry about dropping your Portable Water Juice Bottle. Since our bottle is made of high quality, it is extremely robust.
In addition, the Portable Water Juice Bottle is easy to clean thanks to its design. The bottle consists of 4 parts, which can be unscrewed easily.
Everywhere water with a delicious fruit taste
Unique & modern design
Content  650ml
Size (L*W): 24cm*7cm(9.4x2.8inch)
Save  time and money
Live  healthier
More than 10,000+ satisfied customers