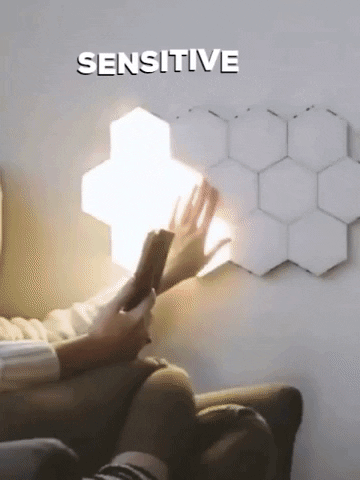 Want to Design Your Own wall with Lighting? Try this NEW Touch Sensitive LED Night Light. This design allows you to effectively swipe where they want or need light, turning the walls into a canvas for illumination using their hand as the brush. Research shows that light is crucial for our health and wellbeing. This Touch Sensitive LED Night Light ensures that we receive adequate light levels at the appropriate time of day benefits our alertness, mood, productivity, sleep patterns and many aspects of our physiology.

Fits any interior: Improve the overall feel of the interior with the ability to turn on and off each individual light, which gives you full control over how bright the area should be.


DIY your own wall lighting: This is a modular touch screen wall light. This design allows the user to effectively slide where they want or need light, turn the walls into the canvas and use their hands as a brush.

Easy to install: Touch Sensitive LED Night Light is super easy to install, it can be attached to the wall by either using the sticky pads provided in the pack or using the holes on the back of each module to hook into nails. Only the central units need to be rigidly connected, allowing the user to move around the other units to make different shapes.
Touch Sensitive LED Night Light is absolutely the perfect gift that everyone would love.
ORDER NOW
Stop wasting your money on cheap replicas and get your Touch Sensitive LED Night Light at an affordable price from MAXinspire with 30 Days Money Back Guarantee. For any questions or queries, be free to contact us.