Best home cleaning tools and after-sales services to the customers around the world with the lowest price.
360 Microfiber Floor Mop is designed for home cleaning, great for cleaning the home or office. 360-degree mopping more flexible, deep into the hard-to-reach area and easily get to anywhere.

360 Microfiber Floor Mop Will Truly Make Your Life Easier!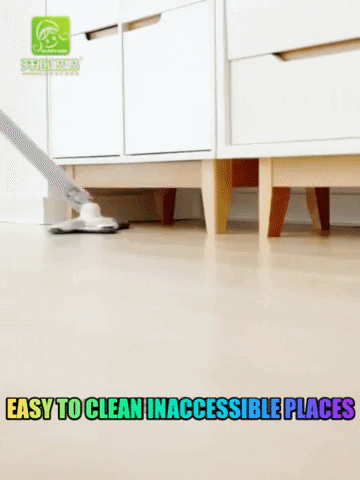 Features:

 - Washable And Reusable
A combination of woven microfiber can effectively loosen, lift and trap dirt and grime like magic while gliding.
 - Safe On All Types Of Floors Ideal for hardwood, laminate tile, stone, concrete floors, etc. ? Use It On Dry Or Wet Surfaces Made to be used for wet and dry cleaning and provides quick and effective results.
 - 360°rotation swivel head makes it easy to reach under furniture.
 - Self-wringing drying mop, wring the water up to 98 %, leave away from dirty water.
 - Made of over 9,000 strands of super absorbent microfiber that lock in dust, spills, and stains.
 - Iron pipe 55" handle for durability and provides long reach for high corners and deep under furniture.

Specification:
Material: Iron pipe , microfiber, plastic Handle
Size: 55"
Mop Pad Size: 14*5.2"

• BRANDED X-SHAPED AUTO MICROFIBER FLOOR MOP: Human's hand imitation principle, wring water more completely, this floor mop able to rotate by 360 degrees, easier to clean edges and corners, with glass fiber in floor mop head for thorough cleaning

• SUITABLE: dust, sauce, milk, hair, this floor mop can be used to solve all these problems. Hardwood Floor, Tile, marble, granite and concrete, it can be used in different kinds of floors. the floor mop of x-shape designing is good for cleaning the corner.

• HOW TO USE FLOOR MOP: Simulated artificial wringing: One hand holds the handle of the floor mop, the other hand easily push down the floor mop of Lower rod to wring out.sliding repeatedly, the floor mop head can easily be screwed dry. We also put a floor mop instructions in the package.

• PERFECT HANDLE DESIGN: This hardwood floor mop is with 55" long handle which allows you to clean windows and ceiling fans. Deep corner cleaning and labor saving, the floor dust mop is designed for solving problems such as dust, sauce, milk, hair, etc. And its also great for cleaning windows, walls, cars, and boats at the same time.

Dehydration Rate: 90% -100%
Packaging: With 3 Mopheads
Feature: Eco-Friendly
Mop Rod Load-bearing: >10kg
Material: Microfibre Fabric
Mophead Quantity: 3
Handle Type: Telescopic
Weight: <2kg
Mop Head Material: PP
Head Shape: X shape
Wringing Method: Four-side Wringing Type
Type: Floor Mop
Feature: Hand-free flat mop
shape: X shape
use: house cleaning
Color: White